Airbnb Property Management and Turnover Service in Tulsa, Oklahoma
Tulsa Property Rental Management
Get our guide, Capitalizing on the Vacation Rental Boom: 8 Keys to Success – and see below to discover the turnkey solution that provides best-in-class vacation rental property management in Tulsa at the right price – on and off Airbnb.
In early 1900s, Tulsa, Oklahoma became known as the "Oil Capital of The World". The first oil deposits were discovered in 1901, and following this, business opportunities, housing and tourism began to grow tremendously in the city.
As a Tulsa homeowner, you know firsthand how the city is now pretty much a must-visit locations for travelers passing by. The strange thing about Tulsa that keeps drawing people in is its unique blend of being a developed area combined with a Southern atmosphere.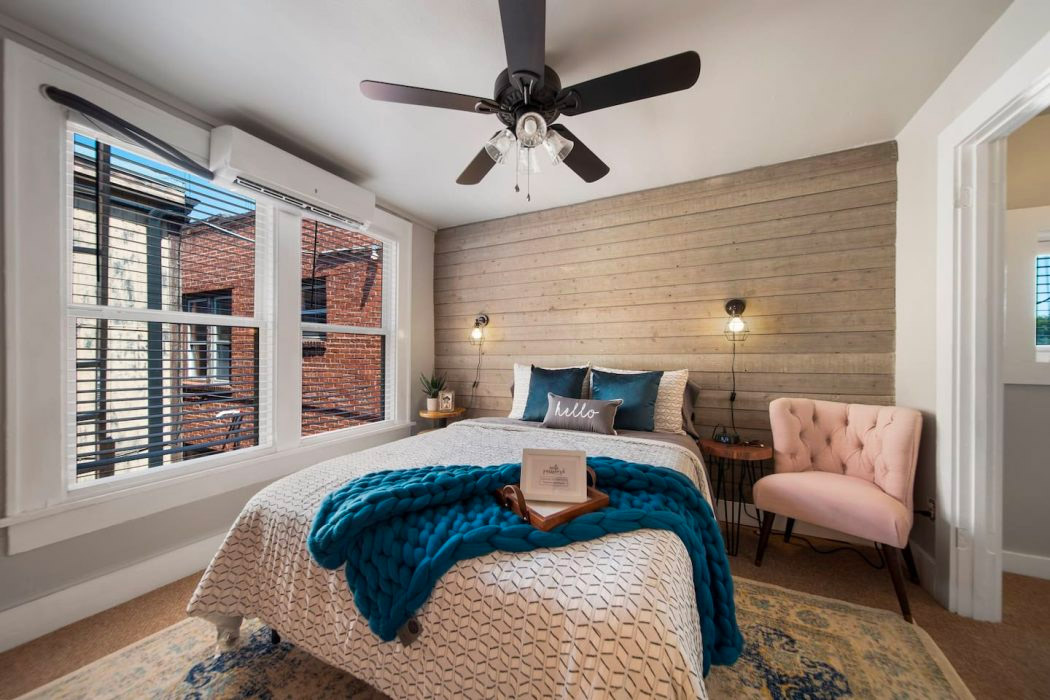 Art connoisseurs love visiting the city as well, thanks to the abundance of cultural sites and museums to visit in the area. As a property owner, you have the chance to welcome visitors to this unique city and display your property to the globe. By partnering with One Fine BnB, Airbnb management for your Tulsa, Oklahoma property gets optimized from every critical angle: marketing, pricing, service, cleaning, reporting, and more. You get a true partnership with unlimited opportunities for income growth.
Turnkey Solution for Tulsa Rental Management
Our team stays on the cutting edge of new technologies and developments in the rental industry, so that you can relax and enjoy your additional free time, without stressing out over the nuances of rental management. If you have a rental or a second home in Tulsa, and you tried to manage the whole thing by yourself, you already likely found that property management and dealing with guests takes quite a bit of time and effort – otherwise you probably wouldn't be reading this page.
We at One Fine Bnb understand and appreciate all the little things that need to be taken care of, for a listing to become really successful. We offer our clients a hassle-free turnkey solution, where we use our experience and proprietary tools to give the greatest visibility to your listing, while keeping the price optimized.
As a Tulsa homeowner, you know that there's no such thing as "no tourist season" in the city. All year long, visitors are drawn to the backstory and atmosphere of the place. To keep up with the demand, everchanging rental laws and regulations, guest communication, etc., takes a chunk of valuable free time. This is why we invite you to start a discussion with us, where we can show you how your property would be managed and optimized, and what you would get out of it.
Increase the value of your bookings
One Fine BnB will promote your home on more than fifty different websites, some of which include Airbnb, Expedia, Booking.com, Agoda, TripAdvisor, VRBO, Kayak and more. The listings will always be optimized for showing up in search results, but that's not all. Our unique, proprietary daily price optimization tool will also take care of dynamic pricing based on demand and several other factors, ensuring that you get the most value from your property at all times.
We like to provide our clients with a valuable partnership, and we aim to work for long-term. This is why we offer the biggest listing exposure to homeowners who work with us, while charging less fees than other vacation rental management companies. Reach out to us so we can discuss details, and provide you with a breakdown of what the service would look like in your specific case.
With You Every Step of the Way
Our professional team is always at hand to solve any issues that might arise, handle guest communication and feedback, and of course manage the rental itself, taking care of all processes between check-in and check-out, handling vendors so that the apartment can be resupplied, managing and fixing any wear and tear, etc. Meanwhile, our customer support team is available round the clock, so that even if your guests have an urgent issue in the middle of the night, it will be taken care of. Ensuring that every guest gets a 5-star stay on the property makes the ratings of the listing go up, and provides amazing reviews, further boosting the income potential of the listing.
Book a free consultation now to discuss your potential earnings and game plan.
Get our educational guide, "Capitalizing on the Vacation Rental Boom: 8 Keys to Success" – FREE
Find out why it's surprisingly easy to turn Tulsa, Oklahoma vacation rentals into a sizable income source using Airbnb and our vacation rental property management company. If you're already renting to Tulsa vacationers, discover how to optimize your income. Send for our FREE guide, Capitalizing on the Vacation Rental Boom: 8 Keys to Success, with invaluable tips on Airbnb vacation rental property management – and details on growing your income with One Fine BnB.